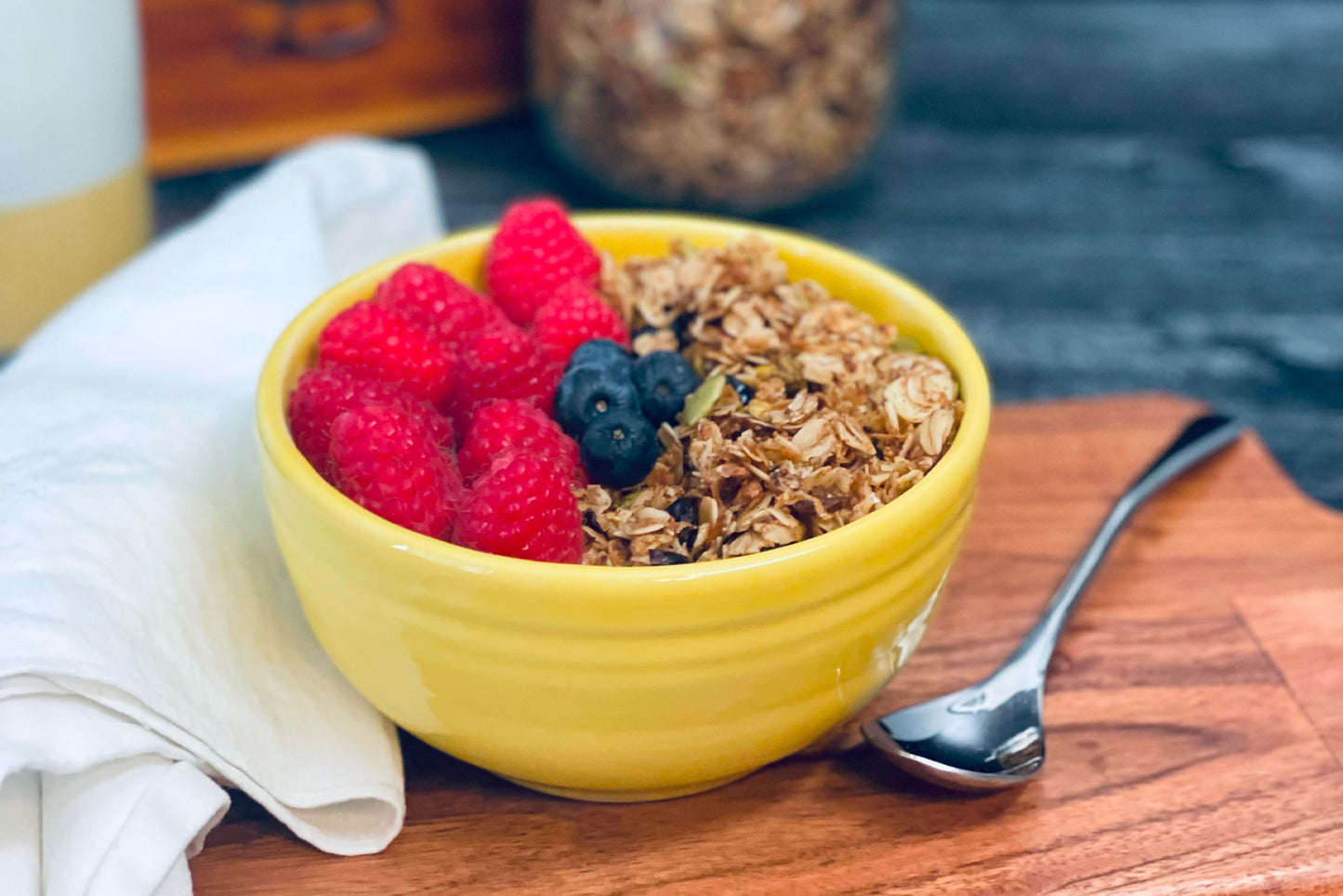 This is a very versatile granola.  It is customizable to whatever your favorite, fruits, nuts and spices.  This version is one of my favorites.  
Ingredients:
It can be made chewy or if you prefer, crunchy.  Both are delicious.  
5 cups old fashion oatmeal
1 1/2 cups toasted, shredded coconut
1/2 cup coconut oil
1/2 cup honey or agave nectar
1 Tbs pure vanilla extract
1/2 cup ground flax seed
2 cups nuts of your choice (sliced almonds, chopped walnuts, chopped pecans)
2 cups dried fruit of your choice (cranberries, golden raisins, raisins, mango, blueberries, apples)
Spice/Flavor of your choice:
Cinnamon
Almond Extract
Nutmeg
Cocoa
Pumpkin
Directions:
On the stovetop heat coconut oil and honey/agave on medium heat until completely dissolved.
In a large crockpot add oatmeal, coconut, vanilla, flax seed, nuts of your choice, any additional spices/flavors.  
Pour coconut, honey mixture over oatmeal and stir well.  
Turn crockpot on low.  Place lid on top propped open to allow moisture to vent.  
Cook for 2 hours, stirring every 30 minutes.  
After 2 hours, turn crockpot off, stir in dried fruit and let cook for 2 hours.  Store in air tight container.  
Store in fridge for up to 2 weeks or store in the freezer for up to 2 months to keep fresh.  
Crunchy Granola:
For crunchy granola, after adding the dried fruit, line 2 cookie sheets with parchment paper, spread granola evenly on the trays.  Put in oven at 170 degrees Fahrenheit, stirring every 15 minutes until it reaches the desired crunchiness.