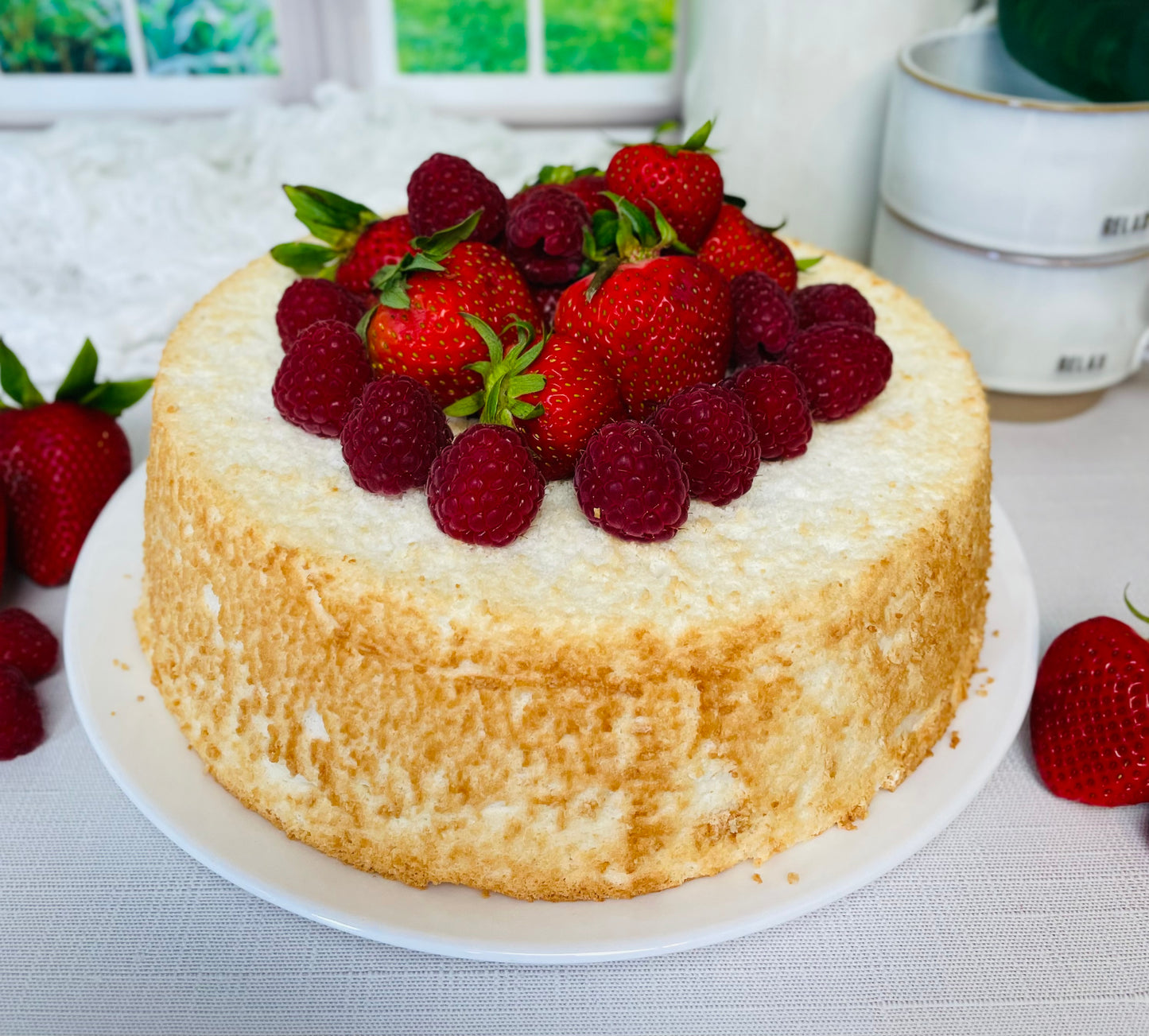 This delicate, fluffy cake is my absolute favorite.  I love to eat it with fresh cut strawberries and raspberries.  My mom made this cake for us when we were growing up and I have the best memories waiting with my sisters for the cake to come out of the oven so that we could pick the crunch bottom off the cake before my mom flipped it over.  My dad also got in the fun trying to pull the best crunchy parts off of the cake before anyone else could. 
Ingredients:
1 cup flour (sifted)
3/4 cup + 2 Tbs sugar
1 1/2 cups egg white (12 eggs) (room temperature)
1 1/2 tsp cream of tartar
1/4 tsp vanilla
1/2 tsp almond flavoring
Directions:
Heat oven to 375 degrees.
Have an ungreased 10"x4" tube pan ready.
Mix flour and 3/4 cup sugar together.
Mix egg whites, cream of tartar and salt in a large mixing bowl. Beat until foamy.
Gradually add 2 Tbs sugar. Continue beating until meringue holds stiff peaks. 
With a spatula fold in almond and vanilla flavorings
Sprinkle flour-sugar mixture over meringue. Fold in gently until the flour-sugar mixture disappears.  Do not overmix.
Scoop batter into ungreased tube pan. Gently cut through batter to ensure there are no air pockets. 
Bake 30 to 35 min. until the top is golden brown.
Invert on a funnel.
Let hang until cool.
Serve with fresh berries and whipped cream.